Summer is coming and along with longer brighter warmer days. This also means hot sweaty days. For me this means I'm keeping my makeup to a minimal, I'm not about the multiple layers of product right now. Be that as it may I still want to have skin that looks fresh and glowly.
I've searched through my makeup drawers and found four products that can give you a soft subtle glow for the days when you want to forgo wearing blinding highlight.
the subtle glow from within
Some of these have more glow potential than others so it would be best to start out with a light dusting and build if you want. Don't go heavy handed right off the bat because that'll through your subtle glow efforts right out the window. Sometimes I'll layer the products on top of each other, for instance I might use the Neo-Highlighter and then apply one of the Nar's blushes over it.
Kevyn Aucoin Neo-Highlighter | Sahara
I love this powder, I've mentioned it in my last monthly favourites post. I like to use the darkest part of the gradient to lightly powder my cheeks, it doesn't get too stark against my skin tone. The powder is finely milled and contains no glitter. With a soft fluffier powder brush this highlight gives the skin a soft diffused look, it catches the light but it's not in your face at all. If you do want to ramp it up then you can venture into the lighter tones in the palette.
Tarte Colored Clay Blush Bronzer Blush | Park Avenue Princess - Pink Bronze
This is meant to be a bronzer blush but on my skin tone I end up with more of a shimmer on my cheeks. It does have a bit of colour but that doesn't show up too well. I find that it does give me a nice luminescence to my skin, because of the hint of colour it does warm up my skin just a bit. The one thing I'm not fond of is the glitter in this product, thankfully it's not too crazy and is in no way a glitter bomb.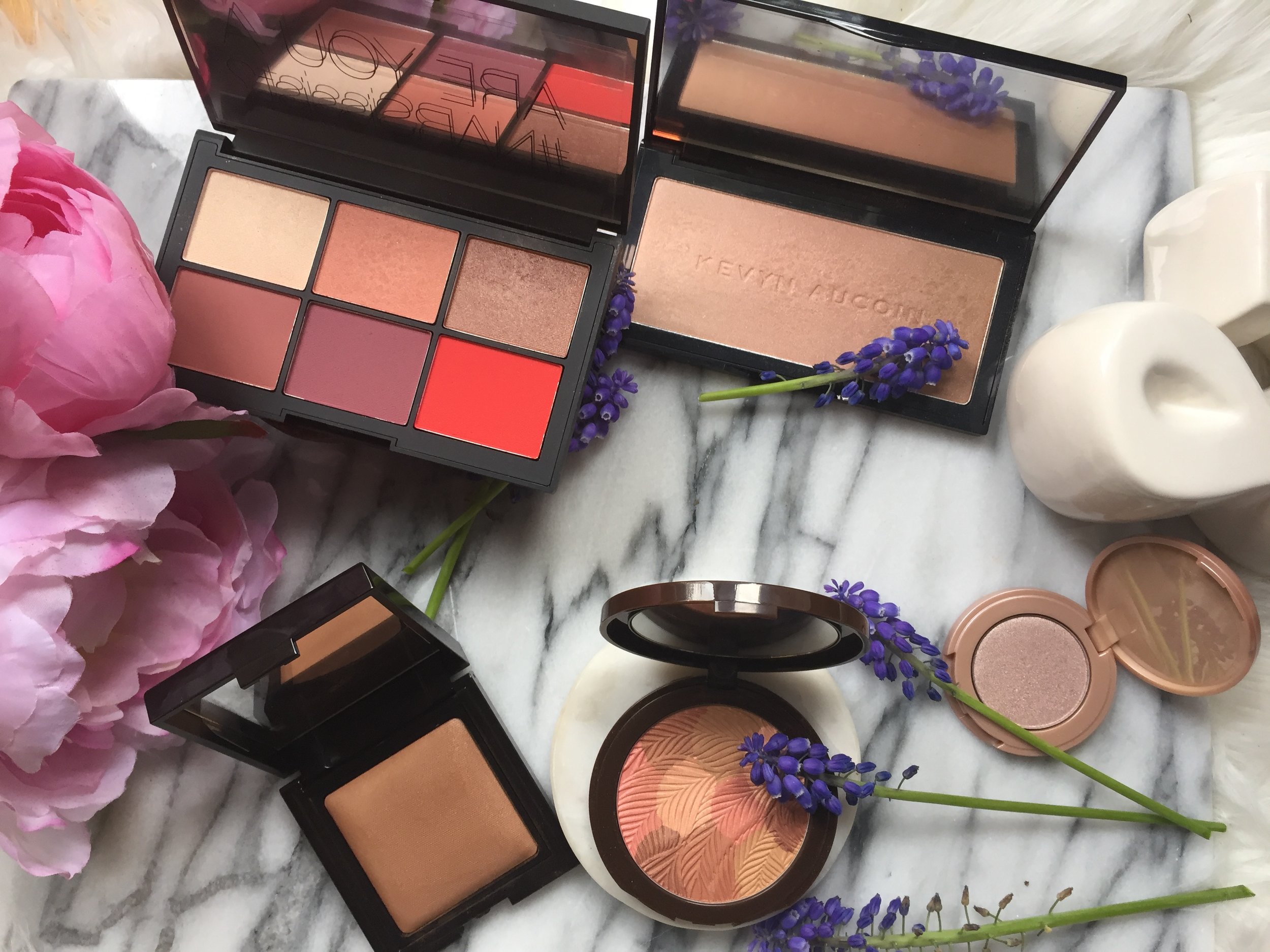 Glowy products for the win
Nars | Unfiltered 1 Blush Palette
There are two shades in this palette that produce a gorgeous glow when applied to my skin. Again because my skin tone is darker it may appear differently on yours. Me First is a soft muted coral orange with soft shimmer throughout, the shimmer might be gold. Takeover is a purple mauve brown that also has reflective shimmer. The barest amount of colour is applied but the shimmer is evident which is where the soft glow effect comes from. This is another way that will look different depending on your skin tone. If you're lighter than me then more of the blush colour will be apparent on your cheeks. Still with a light hand the subtle glow can be accomplished.
Tarte Highlighter | Scandal
Though this is a highlighter when lightly applied it can give a soft shimmering glow. The powder is soft and creamy with very soft shimmer and no glitter. It produces that glowing from within look when applied with a light hand. You can vary the intensity by applying more layers to your cheeks or you could just keeping it at a light dusting.
What products do you plan to use this summer to achieve the perfect soft subtle glow?