Since the weather has gotten warmer, I've made it my goal to make sure that I leave my house as often as I can. This also allows me to wear more makeup which is never a bad thing to me. I've got quite a few things on this month's favourite list (never fear I still love and use my work horse faves) Most of these products I've been using for at least month some even more than that.
Custom palette experiment
I've done a post all about my experiment making my own custom palette, overall I enjoyed the palette and found it versatile. It's by no means a dream palette but it does contain quite a few of the shades that I'm drawn to. Peaches, corals, teal and green tend to attract me and draw my eye.I found that overall I was able to create simple everyday casual looks as well as more glam going out looks. Apart form the lack of a black or deep brown i didn't have to use another palette to complete any of the looks.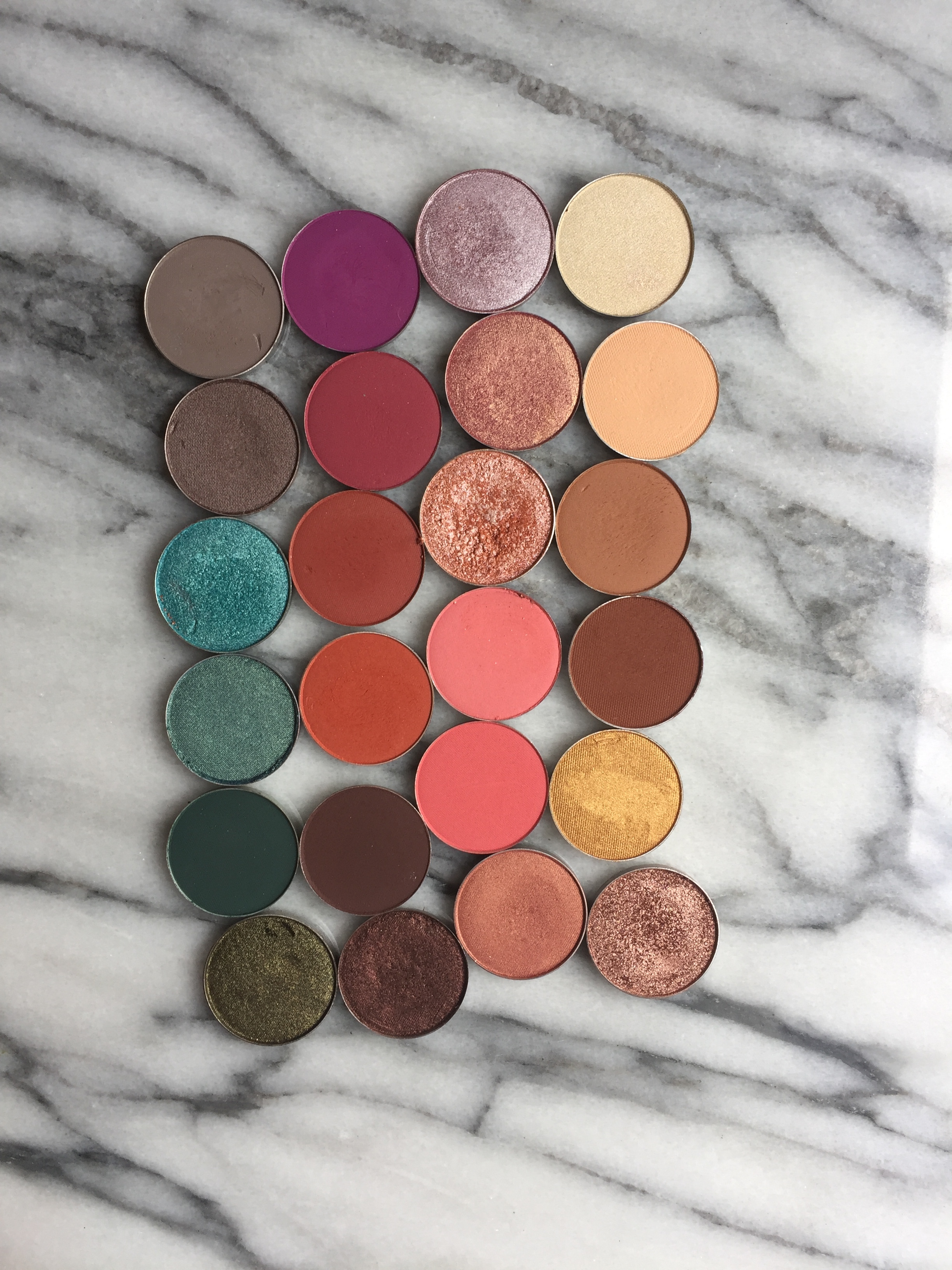 Sunday Riley Vitamin C serum.
It's been a couple of months since I've last used a vitamin C serum. I enjoy having a serum like this in my routine for two reasons, the first is that vitamin c helps with hyper-pigmentation and evening out your skin tone and the second is that it some hows makes your sunscreen absorb better into your skin. I don't know how but I've found that my sunscreen applies better with the white cast minimized, which I'm definitely here for. This serum is not the usual vitamin C texture, in that it's a light cream lotion like product that is a bit fluid. I find that you also have to work quick when you apply it to your skin, patting it in works better than rubbing. Once dried it feels as if there is resistance so you can't rub it anymore.
Tata Harper Moisturizer
This smells very medicinal and herbal which is pleasant to me. I liked to use this moisturizer on days where I was feeling lazy and just wanted to cut down on my routine, knowing that it would give my skin enough moisture through the day. I also liked it for when my skin was acting up or was irritated. It was soothing to my skin and helped to diminish any irritations that sprung up.
Estee Edit The Barest Bronzer
This is my first bronzer, so I'm probably a bit biased. Now I won't say that I love this and that it's holy grail, I'm not there yet. I do like how it looks on my skin and it does what I wanted it to do, which is add some warmth back into my skin. The texture of my skin looks smoother in the areas that I apply this bronzer, now it might just be my eyes playing me, but every time I've used this, my skin looks softer and refined. It's not crazy pigmented so it allows me to build up the colour, which is nice. It just barely shows up on my skin tone, so it's not one that I use for contouring, also it's a very warm bronzer so I don't think it would work well at all as a contour.
Tarte Stunner Highlighter
I got this guy as a freebie when I placed my last Tarte order, I honestly wasn't expecting much. However after using it a bunch, I really like it. I included it in an early post about how to get a subtle glow, it really does a great job at illuminating my skin without being overtly shimmery or glittery. You can build it up to get more of an in your face glow but toned down it's perfect for every day wear. This guys definitely got me considering other Tarte highlighters, if the formula is similar.
Sephora Gloss Balm
I like this balm for two reasons, one being the colour which is a nice coral and the other being how it leaves my lips feeling moisturized. It does live up to the balm in it's name. It doesn't feel thick, sticky or goopy when applied or when worn.The colour initially applies fairly sheer but you can build it up so that it's more opaque and looks more like the shade in the tube.
Juvia's Place Blush Palettes
I had been on the look out for ablush palette when these launched, looking at the shades I knew that they would be great. The price was also nice as well. The blushes in each pan are fairly pigmented but if you use a light hand and a loose blush brush then you can get sheer application that builds up to a more intense colour. I use both palettes interchangeably. I love the deep plum and brown tones in Volume 1 and the pink highlighters in Volume 2.
Becca Opal Highlighter
This highlighter like many have already said is creamy and quite pigmented. If you want highlight that people will notice then this product delivers. I use it sparingly because I don't like my highlight too intense but it's great. It applies nicely and can be sheered out a bit if buffed with a denser brush after application. I also like to apply my highlighter before my blush (if it's intense) because the application of the blush helps to tone it down a bit. This highlighter is great for my complexion and doesn't appear ashy or grey at all on me.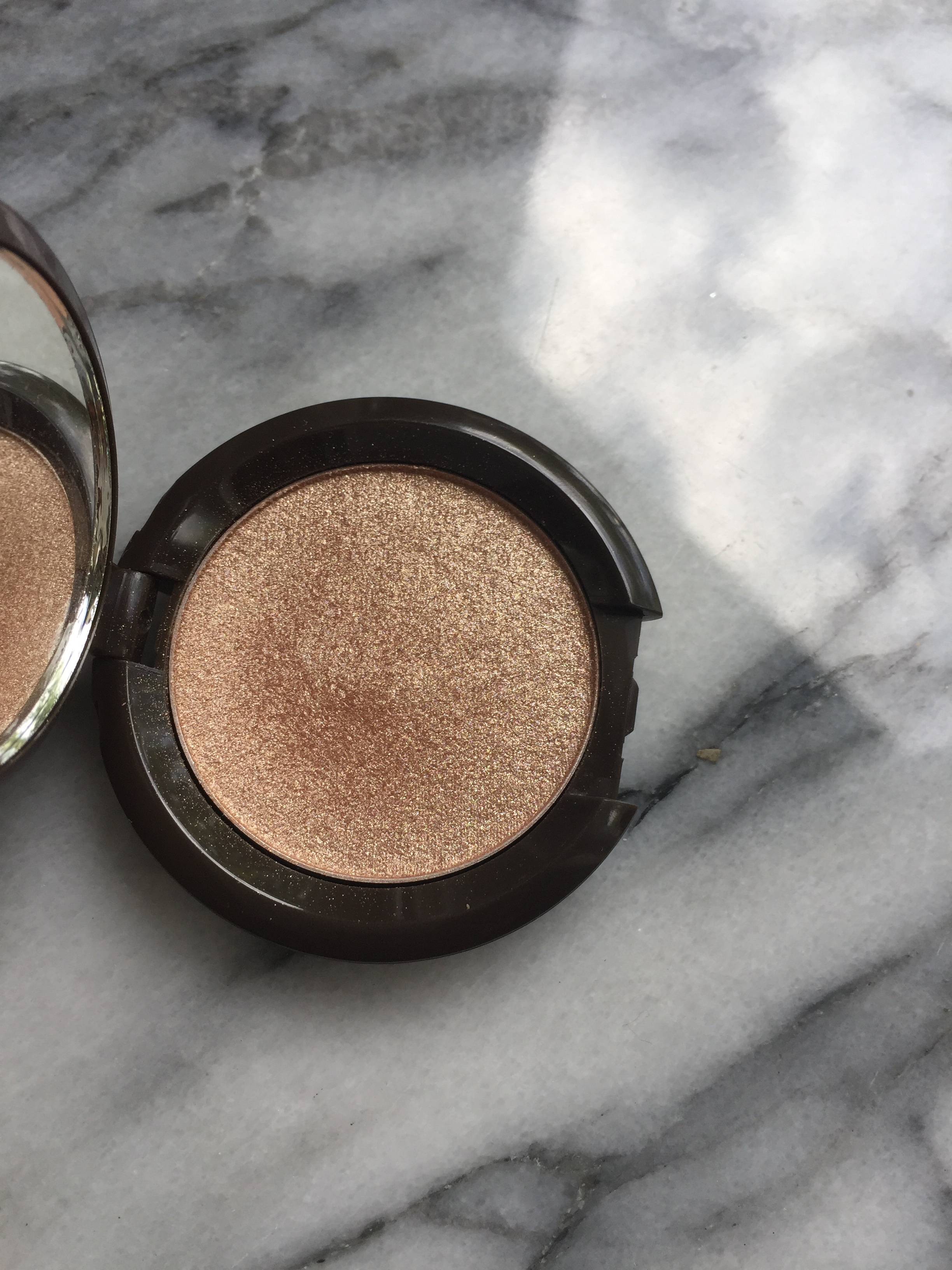 Hada Labo Sunscreen
This is a Japanese sunscreen that is chemical based, so it doesn't tend to give me a white cast which I appreciate. You can apply it after your moisturizer or before. Having experimented with both applications I found that using it before my moisturizer kept my skin from looking too greasy and shiny throughout the day. It also seemed to absorb into my skin a bit quicker, I do like to use myVitamin C in conjunction with my sunscreen because this also seems to aid absorption.
Nest Perfume
I've got a review on this guy already so I won't wax to poetic here. Suffice to say that I find this scent to be light and floral. Not cloying or overdone at all.
Chole Perfume
There is a review for this perfume as well, I've recently discovered that I can wear some scents and so I'm looking forward to slowly building my fragrance collection. I like to apply this fragrance when ever the mood strikes, whether I'm going on the road or to bed.
What have you been loving so far this summer?